Bacterial Plasmids and Transposons

Plasmids

Circular 2X-stranded DNA of any size but typically < chromosome (103-106 bp)
This variation in size allows plasmid detection in bacterial extracts via fractionation by size.
Plasmids are not a requirement for bacterial viability
Yet, cell invests resource in plasmid, so plasmid must convey some reproductive advantage to host or manipulate host to work to plasmids advantage in order to be propagated
Minimally,Plasmid must be able to replicate
they are completely dependent on host for housekeeping functions (i.e. gene expression) so must borrow host apparatus to replicate.
Plasmid must provide their own origin of replication
Many plasmid genomes also encode proteins that redirect host machinery to the plasmid's origin or that make up for differences in replication between plasmid and host chromosome
Curing
= plasimd loss from cell (i.e. due to unequal distribution between daughter cells)
Remedied in many cells by a partitioning function; mechanism unknown but systems have been identified (i.e. incompatibiltiy).
Addiction Systems
: kill off any cured cell. Always found to have two components:
(1) Intracellular protein Toxin (long ½ life); some target DNA helicase (DnaB) and DNA gyrase (topo II)
(2) Inhibitor (short ½ life) that blocks either the final translational step of toxin synthesis or activity of toxin
Long toxin and short inhibitor (antidote) ½ life require plasmid to be transferred for each daughter cell to survive.
if plasmid is not transferred, inhibitor decays and is not replaced, therefore cell death via toxin
Auxiliary Plasmid Function:
primarily Conjugation (the ability to transfer DNA (plasmid or chromosomal) to another bacterial cell via cell-cell contact)
Requirements

(1) Bacteria must be able to contact one another = formation of mating pair (for self-transmission) Þ cell, with plasmid containing genes (10-15) for mating pilus (conjugal pilus), binds receptor on non-pilus cell
(2) Special DNA transport machinery Þ also coded by genes in plasmid
(3) Special origin of transfer (oriT) with in the DNA of plasmid where ring breaks to allow DNA to transfer through pilus to non-plasmid cell.
(4) Other required functions (i.e.DNA polymerase) are provided by bacteria

Plasmid Transfer deficiency : results from a lack of (1), (2), or (3) above Þ non self transferable plasmids

These plasmids can be transferred only if:

(1) They contain an ori T and cell contains a second Helper plasmid that satisfies deficiency of the original plasmid, thus making it Mobilizable.

mobilizable plasmid can be isolated from its helper by conjugation

(2) by fusion with a functional conjugal plasmid (as in R plasmid below)
R Plasmids = R Factors (Resistance Factors)
Two Components:
(1) r Determinant: encodes for antibody resistance. Can evolve rapidly and acquire additional resistance genes via fusion with plasmids or transposon acquisition.
(2) RTF (resistance transfer factor) is a fully functional conjugal element that fuses with r determinant thus facilitates the replication and transfer of R-factor (RF)
RFs can aquire multiple r Determinants and be conjugally spread across species. antibody selects for bacteria with these qualities Þ Ý selective pressure for these strains including multi resistant ones.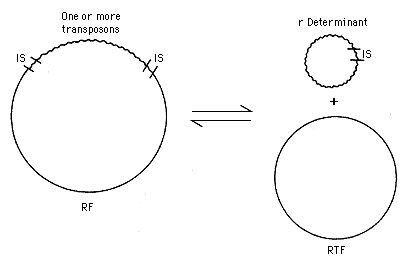 Classification of Plasmids
:

(1) antibiotic resistance
(2) copy # (= ratio of plasmids/chromosomes)
(3) conjugation
(4) replication partitioning system – 2 distinguishable plasmids in the same cell that use the identical mechanism for replication and partitioning cannot maintain both

incompatibility
means the loss of one plasmid attributable to the presence of another
incompatable plasmids are always closely related
Transposons
Transposable elements are genetic units capable of mediating their own transfer from one chromosome to another location on the same chromosome, different chromosome, or a plasmid
These elements have the ability to synthesize their own specific recombination enzymes (transposase) and include:
(1) Insertion sequences
(IS elements) are
» 1000 bp segments of DNA that encode enzymes(transposase) only for site specific recombination (sometimes called replicative recombination because original copy remains at its original site. )
Insertion of new copy into new site involves replication of 4-12 bp at insertion site. IS inserts between duplicate copies (direct repeats) of insertion site (target). IS is flanked by inverted repeat nucleotides on each end.
(2) Transposons
= transposable segments of DNA containing genes beyond those needed for transposition (10X >IS)
flanked by inverted IS elements on either side of genes which may code for antibiotic resistance, metabolism etc.
IS elements are responsible for transmissibility (via replicative recombination)
(3) certain phages
Diagram of Insertion Sequence

Diagram of Transposon