Laboratory Diagnosis of Infectious Disease
The Complexity of Bacterial Ecology
bacteria in nature usually are heterogeneous populations, even when in a normally sterile environment
clinical microbiology designed to detect pathogen in complex sample by two-step process
selective enrichment (conditions favoring selective growth)

EMB plates (eosine-methylene blue) select for Gram negative organisms, like enterobacteriaceae
mannitol-salt plates select for staphylococcus.

isolation in pure culture (dilute by sequential streaking on agar, done twice to ensure colony is clonal)

sterility must be maintained
medium is non-enriching
Stains

– necessary because of bacterial motion and lack of optical contrast
Gram stain – aniline dye (crystal violet), mordant (set) with iodine solution, decolorize with ethanol, counterstain with a dye of contrasting color (safranine)

Gram positive will retain original aniline dye
Gram negative will be decolorized and will take contrasting stain

Spore stain – best to use old colonies or cultures – malachite green, wash, then safaranine

spores will stain bright green, vegetative cells red
Laboratory Identification of Common Strains of Bacteria
streptococcus and staphylococcus are both Gram positive; differentiated by catalase test
only staph possesses the enzyme catalase (H2O2  H2O + O2) and will fizz with added H2O2
staphylococcus – grow as smooth, flat, pigmented colonies 2-3 mm in diameter (after 24 hours on blood agar)
s. aureus (causes pyrogenic (feverish) infections) – coagulase positive
s. epidermidis (causes infections of prosthetic devices) and s. sarpophyticus (cystitis) – coagulase negative
other differentiating tests:

s.aureus turns yellow (acid) on mannitol-salt plate (fermentation), s.epidermidis stays red (base)
pigment on blood agar is cream or greyish for s.aureus, white for s.epidermidis
streptococcus – grow as round, small, non-pigmented colonies 1-2 mm in diameter (after 24 hours)
primary differentiation is by analysis of hemolysis (beta = complete, alpha = partial, gamma = none)

beta include groups A, B, C, F, and G – only group A (s. pyrogenes) is inhibited by bacitracin

differentiation by Lancefield grouping – coagulation with staph coated with specific antibodies

alpha and gamma – tested in two ways

bile-esculin medium – only enterococci and other type D strep will grow
optochin inhibition – positive for s. pneumoniae
some do not grow on bile esculin and are not inhibited by optochin – called "viridians"
coliform group (also called Enterobacteriaceae, or colon-dysentery)
includes Escherichia coli, salmonella, and shigella

most live in mammalian gut, but some are free-living and found in soil (Enterobacter and Proteus)

differentiation between fecal and free-living coliforms important for water/sewage bacteriology

difficult to discriminate because of high degree of uniformity of the group

all are small, Gram (-) catalase (+) rods which do not form spores
flagella, when present, are always peritrichous (distributed over the entire cell surface)
all produce acid from glucose and other carbohydrates
all are facultatively anaerobic and possess a complete respiratory system

nutrition is simple; most will grow on carbohydrate + inorganic salts without amino acids or vitamins
they grow well on EMB
spore formers – produce dry, gray-white spreading colonies that can potentially spread over the entire plate
Basic Principles of Laboratory Diagnosis
the more there is, the more likely it will be seen and be important
positive assay does not necessary mean infection (unless it is from a sterile site), and negative does not preclude
it is easier to see if it grows (by plating or by PCR)
you need to know what you are looking for before you can look for it
Five Ways a Lab Can Diagnose an Infectious Disease
(1) Host Inflammatory or Immune Response (NOT the microbe itself)
e.g., to distinguish bacterial from viral infection
bacteria have greater increase in protein, greater decrease in glucose, and PMNs rather than lympho/monocytes
| | |
| --- | --- |
| If you see... | It is probably... |
| PMN | bacterial |
| mononuclear cells | viral, mycobacterial, fungal, or other nonbacterial |
| eosinophils | helminthic infestation (parasitic) |
| granuloma | mycobacterial or fungal |
| obliterative endarteritis | syphilis |
| mixed granulomatous, suppurative, and lymphoid hyperplastic changes | cat-scratch disease |
| stellate abscesses | lymphogranuloma venereum |
cytology can detect nature of viral infections
also, for chronic diseases, detection of host immune response can be helpful
humoral – serum concentration of IgG against organisms which cannot be easily cultivated

include many viral infections (HIV), mycoplasmal pneumonia, rickettsial infections, chlamydial infections, lyme disease, syphilis, leptospirosis, rheumatic fever, Legionnaires' disease, tularemia, brucellosis, histoplasmosis, coccidioidomycosis, and amebiasis
rapid increase in IgG or presence of IgM suggests recent infection

cellular – test for delayed-type hypersensitivity to mycobacterial or fungal antigens

TB skin test (purified protein derivative, PPD)
can get false negative if patient is anergic (no cell-mediated response) so must do positive control

(2) Direct Visualization of the Organism
via microscope (sputum, pus, urine; pleural, peritoneal, or cerebrospinal fluid)

look at shape (cocci, bacilli, or coccobacilli) and gram staining properties

e.g., diplococci (pairs of cocci) are pneumonia if gram (+) lancet-shaped, nesseria if gram (-) kidney shaped
small gram (-) coccobacilli are hemophilus influenza
some bacteria are "gram stain not helpful": mycobacteria, Legionairre's disease, mycoplasma, chlamidia, virus, fungi, etc.

sputum and pus must be "thinned" by pulling between two slides, CSF must be centrifuged
| | | |
| --- | --- | --- |
| Use This Stain… | To Test For… | A Positive Result is Indicated If… |
| Gram stain | most bacteria, some yeast | cells are blue (gram+) or pink (gram-) |
| Acid-Fast Stain (Kinyoun) | all mycobacteria, also Candida, Nocardia and the Pittsburgh Agent (Legionella micdadei) | cells are pink (also beaded, curved) |
| Auramine-rhodamine Stain | mycobacteria | fluorescence is observed |
| India Ink Preparation | cryptococci in CSF | ink is excluded from large capsules |
| KOH Preparation | elastin (indicates necrotizing pneumonia), fungi | elastin/fungi observed (don't dissolve) |
| Tzanck's Preparation | herpesviruses (zoster or simplex) | multinucleated giant cells observed |
| Silver Stain | fungi and pneumocystitis carinii | stain is absorbed |
(3) Detection of Microbial Antigens (by immunofluorescence)
allows rapid specific identification, often in less than one hour
| | | |
| --- | --- | --- |
| For This Disease | Use This Assay | Which Will Detect These Agents |
| Meningitis | Latex agglutination | Streptococcus pneumoniae, Haemophilus influenzae, Neisseria meningitis, Cryptococcus neofermans |
| Respiratory Tract | Immunofluorescence | Bordetella pertussis, legionella disease, infection influenza virus, respiratory syncytial virus, adenovirus |
| Genitourinary tract | Enzyme Immunoassay | Chlamydia species, herpes simplex infection virus 1 and 2 |
| Hepatitis B | Radioimmunoassay | Hepatitis B surface antigen |
| Human immunodeficiency virus (HIV) infection (HIV) infection | Enzyme immunoassay | HIV p24 core antigen |
(4) Detection of Microbial Nucleotide Sequences (by PCR)
very sensitive – theoretically from a single DNA molecule, realistically from 10-20 (other techniques require 106 or more)
useful for HIV, Treponema pallidum, Hepatitis C
so sensitive that false positives appear more often than with other tests
(5) Isolation of Organism in Culture
useful for bacterial isolation, to quantify bacterial growth, or to identify fastidious organisms(grow only on specific media)
potential problems
contamination (e.g., saliva in sputum or non-pathogenic commensals in non-sterile sites like vagina or pharynx)
inadequate culture conditions (e.g., anaerobic organisms that do not on aerobic cultures)
Gram stain helpful to identify bacteria not present in cultures
due to ease of other methods of detection, many agents are not frequently cultured in clinical settings
viral isolation – expensive and laborious, requires immediate placement in viral transport medium
Rickettsia, Chlamydia, and Mycoplasma – immune methods much easier
fungi, mycobacteria – need weeks to grow (including Mycobacterium tuberculosis and Histoplasma capsulatum)
Identification of Bacterial Organism
Begin by performing a Gram stain:
(1) allow a drop of culture to dry and fix with Bunsen burner
(2) flood the slide with crystal violet for 30 seconds, then rinse
(3) flood the slide with Gram's iodine solution for 30 seconds, then rinse
(4) flood the slide with 95% ethanol twice for five seconds each time, then rinse
(5) flood the slide with safranine, rinse, then allow to dry
Gram positive will be purple, gram negative will be red.
Note: Spore staining uses the same protocol, with malachite green instead of crystal violet; spores will be green, and vegetative cells will be red.
Gram negative, catalase positive (e.g., reactive to H2O2) might be enterobacteria; distinguishing them requires a kit.
Gram positive cocci can be identified accoring to the following scheme: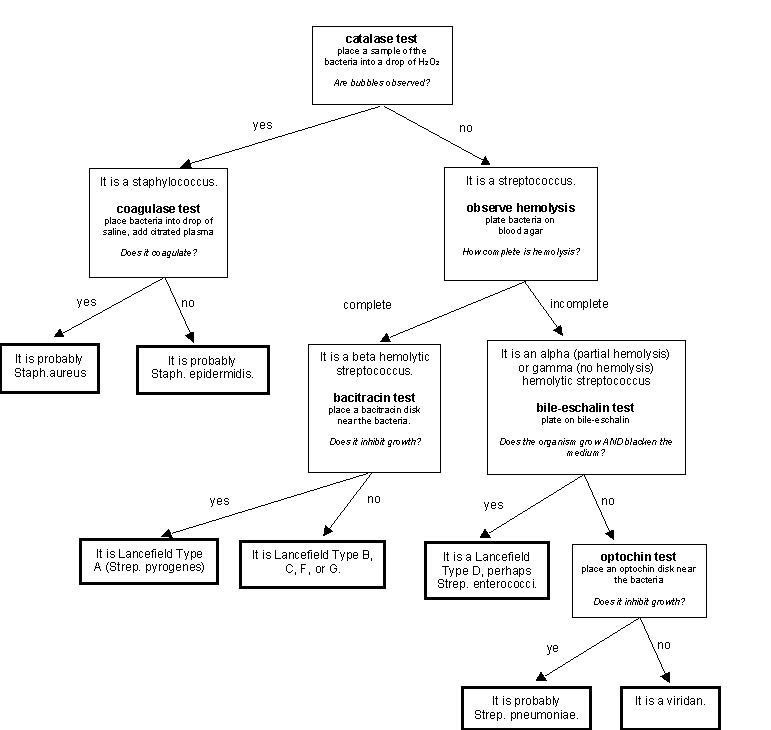 Laboratory Tests for Drug Resistance
First one must identify which organisms have been isolated.
Second one needs to quantitate how much drug one needs to achieve inhibition of the organism.
the next question is: "Can this concentration of drug be reached in the human without negative consequences?"
clinical efficacy is affected by:
the sensitivity of the organism to the antibiotic
the absorption of the antibiotic by the route of administration chosen
diffusion of the antibiotic into the infected area
the toxicity of the antibiotic
allergies of patients to the antibiotic
site and severity of infection
state of host defenses (it is ultimately host defenses that take the bugs out)
Disc Diffusion
Antibiotics are placed on discs and then placed on an
Agar plate with a lawn of organism. The area around the discs is a measurement of the susceptibility of the organism to the antibiotic.
The Zone Diameter determines whether the organism is Resistant, Intermediate, or Susceptible to the antibiotic.
Susceptible
– organism is readily inhibited by levels of antibiotics attained in the blood on the usual dosage
Intermediate
– organism is inhibited only by blood levels achieved with high dosage IV drug administration or by urinary levels in patients with lower urinary tract infections (UTI's) and normal renal function, with drugs that are concentrated in the urine.
Resistant
– organism is resistant to usually achievable levels
Dilution Testing
The minimal inhibitory concentration MIC of doubling dilutions of an antibiotic which will inhibit growth of a defined bacterial population is determined after overnight incubation. Minimal bactericidal concentration MBC is the lowest concentration producing a kill rate of 99.9%. this can be performed in test tubes, microdilution plates, or by a gradient diffusion method called an E-test.
The E-test is a strip of plastic impregnated with antibiotic in varying concentrations. The level at which there is no longer inhibition is the MIC.
the reproducibility of MIC's are within one dilution away. ~95% confidence
b
- Lactamase Detection
direct detection of b -lactamase can be done using isolates of Staphylococci, Haemphilus influenza, and Neisseria gonorrhea. This is accomplished by placing a disc containing yellow cephalosporin in a plate of the organism in addition to a disc of b -lactam. If the yellow disc turns red, it indicates the production of b -lactamase.
Bacteriostatic and Bactericidal activity of serum and body fluids
An old test to see how well an antibiotic is working in a person. Replaced by MIC's
Direct Drug Measurement
Measurement of blood and body fluids to check toxicity of certain agents (e.g. Vancomycin, Chloramphenicol)
CSF levels need to be monitored in Meningitis, not the blood levels, because they are not the same.