Acute Myocardial Infarction
Introduction
1.25 million MI's in the US every year
30% of patients die before reaching the hospital
another 10% die in the hospital
yet another 10% die within a year of their first MI
and 4% die per year following the first year of survival
Early diagnosis and treatment are key!

Coronary Syndromes

Stable angina
– an occluded coronary artery that doesn't allow enough blood flow in for exercise but is fine at rest
Unstable angina
– an ongoing process that leads to Þ MI – necrosis and death of tissue
Plaque rupture
Þ exposed collagen Þ activated platelets release TXA2 Þ vasospasm and platelet aggregation Þ thrombus Þ obstruction of coronary blood flow.

Evidence of platelet involvement

(1) ASA and IIb IIIa inhibitors stop the process of thrombus formation
(2)
Ý [TXA2] measured during MI's
(3) thrombolysis works
Diagnosis of Mis
History
– Chest pain (like an elephant sitting on the chest), however can have silent ischemia
Cardiac Enzymes – enzymes released into the blood during the death of myocytes

Myoglobin –
nonspecific marker of muscle injury appears first within 2 hours
Troponin
– cardiac-specific isoenzymes of TnI and TnT are detectable next, 3 hours after the onset of chest pain
CK-MB
– cardiac-specific creatine kinase starts to rise 4 - 8 hours after infarction
LDH
– LDH1 is the most cardiac specific of the 5 isoenzymes of LDH. A LDH1/LDH2 ratio > 1.0 is indicative of myocardial necrosis. Serum levels of LDH peak 3-5 days after an acute MI.
EKG Changes in MI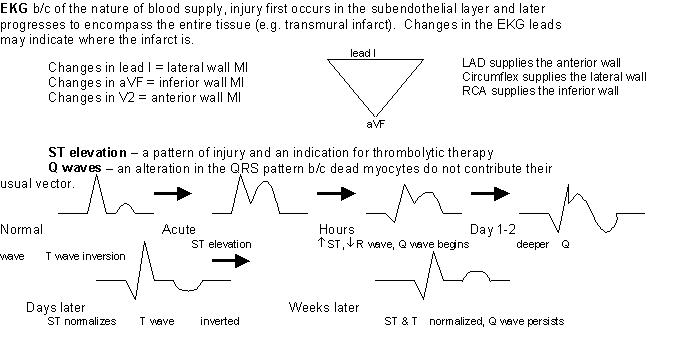 Complications of MI

CHF
– diastolic dysfunction because the heart becomes stiffer
Cardiogenic shock
– ischemia Þ impaired contractility Þ ß CO Þ ß BP Þ ß coronary perfusion
90% mortality of patients in Cardiogenic shock. Only treatment that makes an impact is Angioplasty
must get the coronary artery open!
RV infarction
– ß ß BP, ß CO, Ý Ý venous pressure. Treatment is fluids to maintain BP and therefore CO
Arrhythmias
– the MOST COMMON CAUSE OF DEATH IN MI, V tach and V fib are the biggies, but any other arrhythmia could happen. CCU's monitor patients to quickly shock them out of V Fib.
Heart Block
– if the infarction involves the conduction tissue a heart block may result
Aneurysm
– the weak, damaged wall may balloon out during systole
Ruptured septum
– leading to communication between the ventricles
Ruptured papillary muscles
– results in mitral regurgitation
Ruptured free wall
– death from cardiac tamponade
Thrombus
– stasis leads to thrombus formation, which can result in stroke. Treatment is anti-coagulation.