Positive Inotropic Agents

Cardiac Glycosides

consist of an aglycone ring and a sugar; are known collectively as digitalis; have been used for over 2000 years; currently, two are used in the US: digoxin (99%) and digitoxin (1%).
Indications
: used for treatment of CHF due to systolic LV dysfunction and for rate control in certain supraventricular tacharrhythmias, principally atrial fibrillation and atrial flutter.
Physiologic Effects
:
Ý
cardiac contractility, Ý CO, Ý efficiency (less O2 needed)
Ý
vascular tone, leading to increased BP in normal subjects; Ý TPR
Ý
FAVRP (functional AV refraction period) – time between beats Þ ß HR due to both a direct effect and a vagotonic effect, leading to ß AV conduction
Effects in CHF
CHF due to LV systolic dysfunction = body's response to low CO
Þ fluid retention secondary to renal blood flow Þ Ý preload and afterload with cardiomegaly, Ý LVEDP (left ventricular end diastolic pressure) and pulmonary and peripheral edema. Also leads to Ý in sympathetic tone to maintain tissue perfusion Þ Ý HR and BP.
Digitalis improves cardiac efficiency by moving Frank-Starling curve up and to the left (see diagram), allowing for
Ý CO at ß LVEDP. It also Ý CO and Ý renal blood flow alleviating symptoms of fluid overload. Causes withdrawal of sympathetic tone.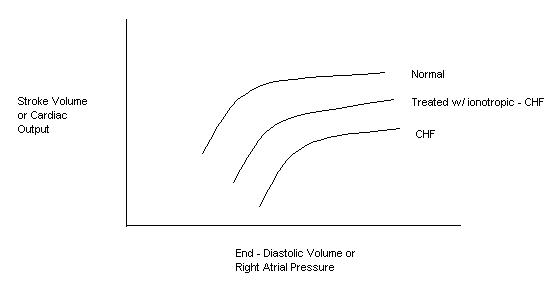 Acute CHF therapy never has just one drug – usually digitalis, a loop diuretic (furosemide), and an ACE inhibitor (captopril or enalapril) are used. Life expectancy can be increased if an ACE inhibitor and digitalis are used.
Normal patient on digoxin:
Ý force, Ý TPR, Ý BP, ß HR, no change in CO
Ventricular Rate Control
Digitalis is used for rate control of supraventricular tachyarrhythmias. Both atrial flutter and atrial fibrillation have high atrial rates, it is important to control the ventricular rate especially in elderly patients. with underlying heart disease.
Digitalis
Ý the effective refractory period in the AV node, thus allowing fewer atrial beats to stimulate ventricles.
Ý
FAVRP – can decrease by a factor of 2
Rate control is particularly important prior to attempting cardioversion to sinus rhythm with class Ia anti-arrhythmias like quinidine, because these drugs can enhance AV conduction and
Ý ventricular response in the absence of digitalis.
Molecular Pharmacology
– Digitalis binds competitively to K+ binding site (alpha subunit) on the Na+-K+ ATPase Þ Ý intracellular Na+ concentration Þ Ý intracellular calcium through Na+/Ca2+ exchange mechanism. Ý Ca2+ enhances contraction coupling in the heart by activating myosin ATPase which Ý contractility. Note: Since digitalis competitively binds to the K+ site, low K+ can cause digitalis toxicity (due to less K to compete with digitalis).
Na+
: 140 mM extracellular, 5 mM intracellular; K+: 140 mM intracellular, 4 mM extracellular; Ca2+: 2
m M extracellular, 10-7M intracellular
Na+, K+ ATPase: 3 Na+ out for 2 K+ in; Ca2+/Na+: Ca2+ out for 3 Na+ in
Toxicity
– has a narrow therapeutic window.
GI – nausea, vomiting, and anorexia - the most frequently encountered adverse effects.
CNS – blurred vision; yellow/green halos around bright objects; rarely, psychosis.
Cardiac – bradycardia, heart block, junctional tachycardia. Life-threatening ventricular arrythmias may occur.
Gynecomastia – rare
Although digoxin blood levels are routinely measured, a normal level does not imply a lack of toxicity and a high level does not imply toxicity – the patient must be evaluated clinically.
Serum postassium levels must be measured in patients with suspected digitalis intoxication and occasionally in patients on chronic digitalis therapy, since hypokalemia contributes to toxicity by allowing more drug to bind to ATPase.
Treatment
- If toxicity is mild, reduction in dose or discontinuation of the drug is all that may be required. Hypokalemia must be corrected with K+ repletion. For severe toxicity, patients should be hospitalized and monitored. Phenytoin is useful for digitalis-induced ventricular arrhythmias. A novel treatment consists of Fab antibody fragments to digoxin, which rapidly clear free digoxin from the blood. Because of the very high cost, use is restricted to life threatening toxicity.
Pharmacokinetics
– Clearance and half-life: Digoxin – renal, 39 hrs.; Digitoxin – hepatic, 6-7 days
Because of long half-life, loading doses are used initially.
Quinidine, quinine, verapamil, propafenone, diltiazem, and amiodarone may all increase digoxin levels.
Dobutamine (cathecholamine)

alpha 1(weak) and beta 1 (strong) agonist;
Ý force (ionotropic effect is much greater than other effects), weak vasoconstriction, weakly chronotropic; treat CHF without tachycardia.
short half-life (2-3 min)
Þ IV only, sometimes a brief course of therapy (3-4 days) has beneficial effects for months.
does not increase life expectancy, but does improve quality of life

Amrinone and Milrinone

inhibit phosphodiesterase
Þ Ý cAMP, like caffeine; stimulate cardiac contractility (positive ionotropic agents); Amrinone is administered by IV and milrinone is administered by IV and PO.
Use has been limited by their pro-arrhythmic effects to refractory cases of CHF.