Chronic Obstructive Pulmonary Disease

Definition of COPD

an increase in resistance to airflow owing to partial or complete obstruction at any level, from the trachea and larger bronchi to the terminal and respiratory bronchioles

Emphysema

– loss of elastic recoil
Definition
– abnormal enlargement of airspaces distal to the terminal bronchiole, most frequently caused by tissue destruction but without significant fibrosis
Pathology
– obstruction of airways by the loss of elastic recoil
loss of elastic tethers which aid in holding the small airways open during expiration
Two forces driving elastic damage
– ß anti-elastases or Ý elastases
ß
a 1 anti-trypsin = ß anti-elastases
elastases are found in macrophages (majority) or PMNs – cigarette smoke stimulates elastase release
histologically see big holes which result from loss of elastic tissue by the elastases
Types of Emphysema:
(1) proximal acinar emphysema (centrilobular)
– loss of elastic tissue in proximal part of acinus (respir. bronchioles)
more severe in the upper zones of the lung bilaterally
most common form of emphysema associated with symptomatic COPD
most common emphysema found in smokers
can be seen in coal workers' pneumoconioses
(2) panacinar emphysema (panlobular) – destruction throughout the acinus, generally distal to the terminal bronchioles
more severe in lower zones of the lung bilaterally
most common form is familial emphysema associated with a 1 antitrypsin abnormalities
may be seen more commonly in IV drug users
(3) distal acinar emphysema (paraseptal) – dilatation of the distal 3rd respiratory bronchioles, alveolar ducts and sacs
least common
form of emphysema
seen most commonly along the posterior/anterior margins of the upper lung
associated with spontaneous pneumothorax of young adults
(4) irregular emphysema
– lung is scarred for some other reason Þ inflammatory cells in this region give up abundant amount of elastases Þ elastic destruction adjacent to the area of fibrosis
usually not associated with symptoms
associated with focal zones of fibrosis and scarring
Asthma

– reversible anatomic airway narrowing
Anatomic airway narrowing by
:

(1) smooth muscle constriction
(2) "bronchoconstriction"

Pathology
– airway inflammatory changes of the lumen, mucosa, submucosa
Histology
– mucus plugging, constriction of airway, big areas of smooth muscle glands, smooth muscle hypertrophy
In the lumen
:

(a) mucus plugging
(Curschmann's spirals) – chronic mucus secretion forming spiral casts in the airways
(b) desquamated epithelial cells
(Creola bodies) – dead cells which curl up which are found in the sputum
(c) inflammatory cells
(esp. eosinophils)
(d) crystals
(Charcot-Leyden) – comprised mostly of eosinophil protein

In the mucosa
:
Ý goblet cells
(c) basement memb thickening – non-specific deposition of immunoglobulins is most likely cause
(d) epithelial cell desquamation
In the submucosa
(major part of airway narrowing):
(a) dilated capillaries
(b) edema
(c) enlarged mucous glands
– protected response to an inflamed environment
(d) inflammatory cell infiltrate
Bronchiectasis/Cystic Fibrosis

– irreversible anatomic airway narrowing
Definition
– chronic, necrotizing infection of the bronchi and bronchioles leading to or associated with abnormal dilatation of these airways; gradual destruction of bronchiole causing it to become more and more dilated
Etiology
:

bronchial destruction
cystic fibrosis (common)
immunodeficiency status
ciliary dysfunction
recurrent necrotizing pneumonias (rare)

Pathology
:

dilated airways
marked acute and chronic inflammatory infiltrate within the walls of the bronchi
desquamated epithelium
and ulceration
squamous metaplasia
Ý
mucous secretions

Chronic Bronchitis

– anatomic airway narrowing
Definition
– chronic or recurrent excess secretion of mucous into the bronchial tree
Etiology
– tobacco smoking is the most common cause

found in association with emphysema or may occur alone

Pathology
– submucosal gland enlargement
Ý
chronic inflammation (bronchiolitis)
Ý
smooth muscle
Reid index
– the ratio of the linear measure of the gland layer between the mucosa and the cartilage plate to the linear measure of the entire mucosa down to the cartilage Þ normal £ 0.35; disease = 0.60 – 0.80

Functional Abnormalities of COPD

Airflow limitation
: Dynamic narrowing of ventilation pathways: Can be caused by smooth muscle constriction, edema, and secretions.
Hyperinflation
: Loss of elastic recoil of the lung (emphysema), thoracic over-expansion.
V/Q mismatch
: can cause hypoxemia and hypercapnia due to shallower breathing pattern.

Mechanism of Cor Pulmonale and Respiratory Muscle Fatigue in COPD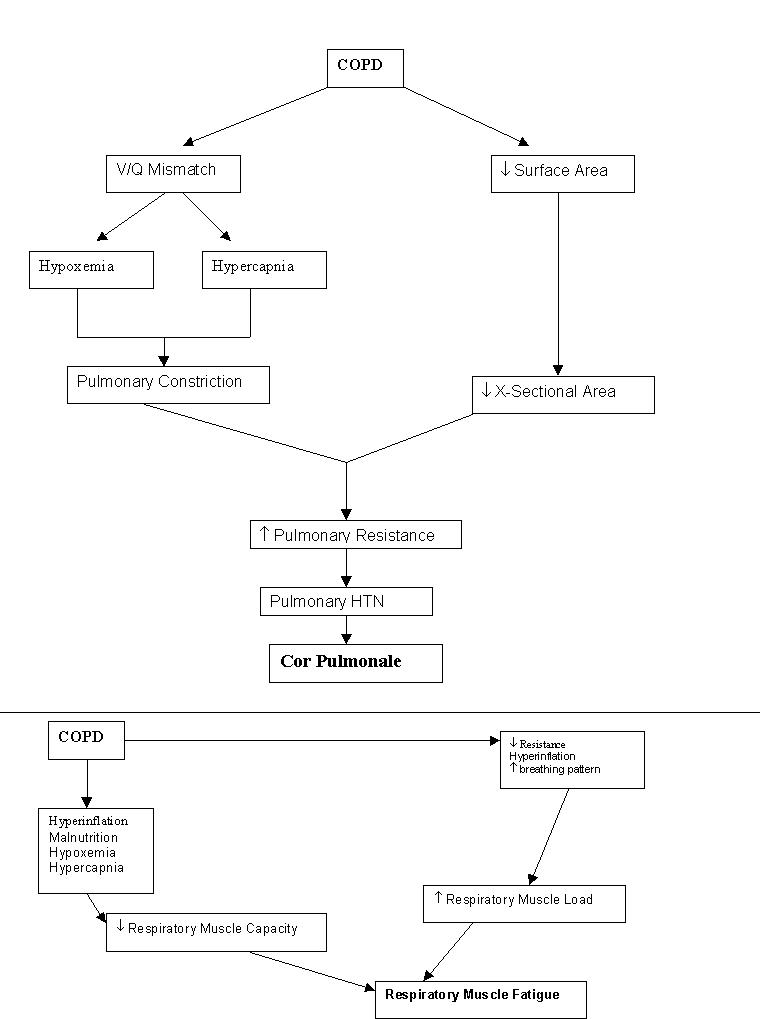 Physical Findings of COPD
Patients who present with cough, sputum production, hypoxemia, and CO2 retention have been called "blue bloaters"
Patients who present with mild hypoxemia, no CO2 retention, and severe dyspnea have been called "pink puffers."
Symptoms of COPD mainly include cough and dyspnea.
Physical findings include airflow limitation, hyperinflation, and other complications (cor pulmonale).
Signs of airflow limitation
– prolonged expiratory phase and wheezing (more severe if during quiet breathing). As disease progresses, adventitial sounds such as crackles may be heard during inspiration. In more severe cases, patients can present with pursed lip breathing and using accessory muscles.
Signs of hyperinflation
-
ß diaphragmatic excursion and hyper-resonance.
Signs of cor pulmonale
– JVD, ascites, and edema. Sometimes right ventricular involvement: RV heave, loud P2 (pulmonary HTN), hepatomegaly (RV failure), tricuspid insufficiency, or a gallop.
Diagnosis based on history, physical exam, and laboratory data.
History
: symptoms (cough, dyspnea); previous infections; allergies; other disorders: sinus, colitis; exposure to pollutants (personal, environmental, occupational); and family history.
Physical exam
: Patient with advanced COPD – raises shoulders to use upper accessory muscles to breathe, leans forward, purses lips to prevent expiratory collapse of airways, distended neck veins, hyper-resonant lungs. Lungs do not expand very well – presence of hyperinflation. Breath sounds: reduced (airflow diminished – extra air in lungs), expiratory time is prolonged (< 3sec; >65% - normal); extra sounds (rales or crackles). In COPD, extra sounds occur at the beginning of inspiration; if CHF at the end of inspiration.

If diaphragm is fatigued or weak, you see abdominal paradox – On inspiration, the sick patient uses mostly accessory muscles, chest expands outward, and abdomen moves inward. In a normal patient during quiet breathing – diaphragm contracts, chest, thorax and abdomen move outward.
Less reliable signs: fast breathing rate is an early sign.

Laboratory Data
hemoglobin, WBC, chest roentgenogram, ABG (can reveal hypoxemia or hypercapnia)
ECG
: Peaked P wave: right atrium is activated late and left atrium early
Þ Ý P-wave amplitude (instead of right and left P waves following one another, they occur at the same time and sum together).
Spirometry
: Pulmonary function tests show ß flow rates mainly in the middle half of the forced vital capacity and also in the FEV1. Lung volumes will reveal hyperinflation: Ý residual volume, ß vital capacity.
Chest X-Ray
: Shows signs of hyperinflation: ß vascular markings peripherally, small vertical heart, low flat diaphragm, Ý retrosternal space, radiolucent area, Ý PA distance.

Treatment of COPD

Specific treatment does not exist.
Symptomatic
:
Treatment of Bronchial Obstruction
: remove irritants, bronchodilators (
b -agonists, cholinergic antagonists, or phosphodiesterase inhibitors), evaluate mucus secretions, flu vaccine, and quit smoking (improves 40-50%).
Treatment of Cor Pulmonale
: Diuretics and oxygen; pulmonary artery vasodilators Þ ß pulmonary HTN. Treat lungs before the heart.
Treatment of Left Ventricular Failure
: COPD can mask the physical findings of LVF (dyspnea, rales, gallops, X-ray findings). Use echo and radionuclide tests to evaluate LV function.
Long-term oxygen therapy
: In treating hypoxemia, long-term administration of O2 improves survival. Oxygen therapy in COPD and hypercapnia requirements: low concentration, high flow rate, controlled, and continuous. A Venturi mask can fulfill all these criteria.
Management
: Prophylaxis includes avoiding exposure and using vaccines, antivirals, and antibiotics. Other interventions include behavior modification, pharmacologic therapy, mechanical support, and surgery.
Pulmonary Rehabilitation
: Includes treating respiratory muscle fatigue by ß muscle load, Ý muscle rest, and ensuring adequate oxygenation and muscle blood flow. Nutrition is also important because many COPD patients can progress to pulmonary cachexia syndrome. Contributing factors include: hypermetabolism, aging, drug therapy, tissue hypoxia, inactivity, and systemic inflammation.