Interpretation of Chest X-Ray
X-ray position
Proximity to Film:
The closer a structure is to the film the more defined the structure will appear on the film
The farther a structure is from the film the more magnified the structure will appear on the film
Posteroanterior: (PA)
Patient is positioned with chest to the film and the x-ray beam is shot from the back through the chest.
This is the standard shot. The reason for this is that the heart silhouette is clearer and is not magnified
Anteroposterior: (AP)
Film is positioned behind patients back and shot is taken from chest through the back.
Typically taken by a portable x-ray machine (in E.R. rooms). Makes the heart appear more enlarged.
Lateral
: Film is positioned at patient's right and the shot is taken form the patient's left side through right.
Typically taken to confirm PA finding's or diagnose findings indiscernible from the PA (i.e. Pleural effusion)
Decubitus:
Patient is lying down on their side while the shot is taken from their back to front.
Used to ascertain whether a pleural effusion is free flowing or loculated (pocket of contained fluid)
Radiographic densities and images

The x-ray is a 2-dimensional composite shadow produced by transmission of x-ray photons through 3-dimensional structures that differ in their ability to attenuate the photons. 2 types of info is given: shape and density
General principles
:
All shapes (except a sphere) will show dramatic changes in their shadow profiles
An object will have a distinct silhouette border only if it differs significantly in density from the objects around it
Four basic densities exist: (1) air, (2) fat, (3) fluid filled tissue, and (4) bone
Bone appears the whitest on x-ray because it is the most dense. It causes high levels of photon attenuation (and hence low photon transmission)
Systematic Roentgenographic interpretation

(1)
Ribs: Ensure that you can observe at least 11 ribs. Pay attention to any breaks, fissures, "moth-eaten" areas, or areas with Ý or ß radiolucency. The rib densities can be used to evaluate intensity of the exposure used taking the x-ray
(2)
Diaphragm: Ensure that they are domed. A flattened diaphragm can be indicative of fluid under the diaphragm.
(3)
Clavicles: Same as ribs. Position relative to ribs can be used to assess to rotation of the patient in relation to the shot.
(4)
Tracheal air column, carina (ridge separating right and left bronchi), mainstem bronchi: Ensure that these are midline and are not enlarged.
(5)
Mediastinal profiles: all vascular structures and resolve into a series of nine intersecting arcs (numbers correspond to figure below):
(1) superior vena cava
(2) ascending aorta
(3) right atrium
(4) inferior vena cava and cardiac fat pad
(5) left subclavian vein and artery
(6) aortic arch
(7) pulmonary artery
(8) left atrium
(9) left ventricle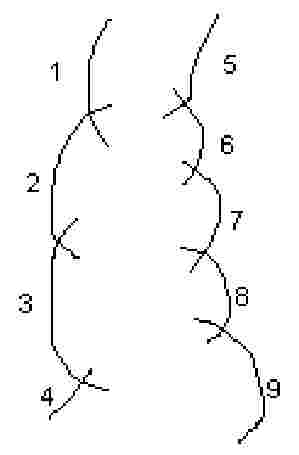 Mediastinal shift:
if the mediastinal structures appear to bow to one side this may suggest either a vacuum effect (lung collapse) or mass effect (neoplasm, exudate, hyperinflation). The mediastinum will be shifted toward the side of lung collapse and away from the side of lung overexpansion (emphysema)
Cardiac silhouette:
the borders of the heart are used to confirm physical findings
(6)
Major and minor lobar fissures: lateral film accentuates the right lobe fissures (since it is closet to the film.) When a pleural effusion is free flowing, sometimes the fluid can be seen flowing into the fissures. Shifts of the fissures may be used the same way as mediastinal shifts.
(7)
Location of the RUL, RML, RLL, LUL, LLL, lingula
(8)
Esophagus: Ensure that this is midline. Sometimes can be deviated to one side by a large pleural effusion or goiter.
(9)
Right and left hemidiaphragm: ensure that the borders are clear and distinct. Observe the Costophrenic angles (should be sharp and free of fluid). Upon inspiration the diaphragm should be visible at the 10th or 11th rib. Looking for possible fluid collection (pleural effusion)

Silhouette sign

Definition: Loss of density contrast borders due to
Ý density of another tissue. If an infiltrate is large enough to occupy a significant part of a lobe it may result in the disappearance of the silhouette of an adjacent structure. When lung tissue is replaced by blood, pus, or tumor, the radiographic outlines of the mediastinal or diaphragmatic organs superimposed on these infiltrated areas will disappear.
CXR
: helps to locate infiltrates or densities.

Pulmonary Vasculature

Vascular patterns: Vasculature most prominent in the medial lower lung (75% of total perfusion is in lower lungs). Ratio of upper to lower: 1 to 3. Vascular prominence can represent engorgement of arteries, veins, lymphatics, or all three.
Pulmonary arteries: run vertically
Pulmonary Veins: empty lower and course horizontally
Pulmonary Lymphatics: Not visible.
Venous prominence: backup or regurgitation of blood from left ventricle to lungs (mitral stenosis, CHF, MI, mitral regurg).
CXR
: upper lope engorgement
Arterial engorgement:
Ý right sided flow (left to right shunts) (c/w patent ductus arteriosus, septal defects, etc.) Ý vascular prominence without significant vascular redistribution

Pulmonary Parenchyma

While vascular problems present radiographically as linear densities, changes involving pulmonary parenchyma are often "patchy" densities – infiltrates
Infiltrates: "patchy" density associated with infections, neoplasms, and hemorrhage.
Localization: use silhouette sign, mediastinal shift, infiltrate identification (air bronchogram sign present?)

Pulmonary Edema

Pulmonary edema is the result of pulmonic vascular congestion to the point that the oncotic pressure of the blood is no longer able to maintain the integrity of the vascular system. Resulting edema fluid is taken up by lymphatics which
Ý in radiologic prominence.
CXR
: horizontal linear densities (Kerley's lines). Kerley's B lines: represent engorgement of interlobular septa (CHF, tumor, fibrosis)

Pleural Effusion

Definition: fluid in the pleural space
CXR:
costphrenic angles should be sharp and free of fluid. Pleural fluid collects in the costophrenic recess. In the upright patient it first fills up the deeper posterior part of the recess. Therefore, the lateral view will show an effusion before a PA.
Elevated diaphragm vs consolidated left lower lobe vs pleural effusion:
Fluid may accumulate between the lung pleura and the diaphragm so a pleural effusion may be difficult to distinguish from the above conditions.
Free flowing vs loculated:
A decubitus shot is needed to distinguish whether fluid is contained (loculated) or free flowing within the pleural cavity

Air Bronchogram sign

Definition: Sign aids in whether a lung field density is simply a collection of fluid located outside the alveoli or whether there is actual consolidation (interstitial disease) of the air spaces.
CXR:
air in the bronchial tree made visible by increased density of the surrounding structures. Normally the bronchi are not well seen because there is not enough contrast in radiologic density. But under conditions of lobar consolidation (tumor or pneumonia) the radiologic density surrounding these air spaces is much greater, the contrast makes the bronchial markings visible.
Cardiothoracic ratio

Definition: On a PA exposure, the extreme right and left borders of the cardiac outline should be no farther apart than ˝ the width of the chest at its widest point. An enlarged left ventricle is most often the cause of an
Ý Cardiothoracic ratio.