Pulmonary Manifestations of HIV Infection

Pulmonary Disease in HIV

Pulmonary complications are often the initial clinical manifestation of HIV infection
Pneumonia and respiratory failure are the most common causes of death in the late stages of HIV infection
Pathogenesis of Pulmonary Disease in HIV
Small particles (<1-2 microns) reach the terminal bronchioles (defenses include bronchus-assoc lymphoid tissue-BALT) and the alveolar spaces (defenses include surfactant, secretory IgA, alveolar macrophages and PMNLs)
During the course of HIV infection, there is slow progressive loss of CD4 lymphocytes (CD4 < 200 = AIDS) and abnormalities in the function of other immune cells (i.e., alveolar macrophages, natural killer cell activity)
During HIV infection, non-specific immunoglobulin production (polyclonal hypergammaglobulinemia) impairs the ability to form neutralizing antibodies to novel antigens from pathogenic microorganisms
Þ contributes to the 5-20 fold increase in pyogenic pneumonias in HIV-infected individuals
The following diagram summarizes the CD4 counts at which certain HIV-related conditions usually occur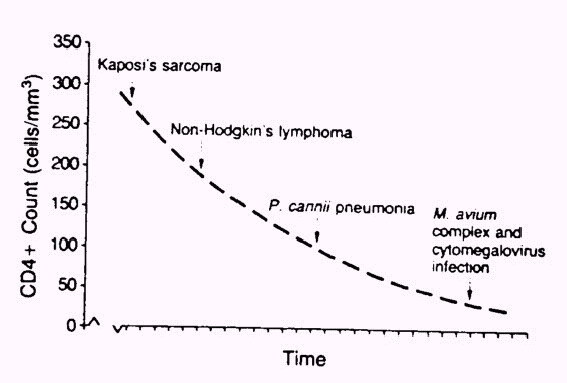 Main points regarding pulmonary infections in HIV-infected patients
infections in HIV-infected individuals are severe, often disseminated and assoc with a high burden of microorganisms
fungal, parasitic, and viral infections in HIV-infected individuals are rarely curable. They can be controlled acutely, but usually require long-term "suppressive" therapy
many pulmonary opportunistic infections in HIV-infected patients are due to endogenous reactivation of previously acquired organisms. The most common communicable pulmonary infection is tuberculosis
multiple infections are common. A poor response may be due to a 2nd infection, rather than failure of initial therapy
the occurrence of certain fungal + parasitic infections depends on the prevalence of infection in the local population
serious bacterial pneumonias are more prevalent in HIV-infected persons

Bacterial Pneumonias in HIV

bacterial pneumonia is the most common pulmonary complication of AIDS
pneumococcal pneumonia is 5-6 times more common in HIV-infected patients compared with non-HIV infected individuals
bacterial pneumonias can occur at any time in the course o f HIV illness but occur more commonly as HIV advances and CD4 count declines (S. aureus pneumonia often occurs late in the course of HIV infection
Þ parenchymal necrosis with cavitation is commonly seen)
Children with HIV infection and AIDS have a higher incidence of bacterial pneumonia than adults
Frequent or recurrent pneumonia in infants and children is suggestive of HIV infection
HIV infected patients are especially prone to encapsulated organisms
The most common causes of bacterial pneumonia in HIV-infected patients are Streptococcus pneumoniae, Hemophilus influenzae, and Staphylococcus aureus.
The signs and symptoms of acute bacterial pneumonia in patients with AIDS are similar to those in non-HIV-infected individuals with fever and cough (90%), tachypnea, purulent sputum production, and pleuritic chest pain
Chest x-ray is useful in making the diagnosis of bacterial pneumonia (focal infiltrates) in patients with AIDS
Response to antimicrobial therapy is generally prompt; if no prompt improvement, suggests complications such as empyema (infected parapneumonic pleural effusion), lung abscess or another opportunistic infection
Upper Respiratory Tract Infections
bronchitis and sinusitis occur with increased freq in patients with HIV and at any level of immunosuppression, but the incidence increases as CD4 declines
S. pneumoniae
and H. influenzae are the most common bacterial pathogens involved

Pneumocystis Carinii Pneumonia (PCP)

the most common pulmonary opportunistic infection in HIV-infected individuals in the USA and is the first AIDS-defining condition in 65% of HIV-infected persons in the USA
formerly considered to be protozoan, now found to be related to both protozoa and fungi
ubiquitous organism found in many species but the environmental reservoir is unknown
P. carinii
disease is almost exclusively limited to the respiratory system and is acquired thru airborne transmission
90% of individuals have Ab to PCP by age 4 suggesting infection commonly occurs in early childhood
P. carinii
pneumonia is an infection of later stages of HIV infection (seldom occurs when CD4 > 200)
Grows within the alveoli in great numbers
Þ alveoli become filled with an amorphous foamy eosinophilic exudate containing both cysts and trophozoites of the organism; As illness progresses severe oxygenation failure occurs
PCP symptom presentation
:
2-6 wk history of intermittent fever, non-productive cough, and progressive dyspnea on exertion
symptoms are insidious, gradually progressing over wks to months
productive cough, purulent sputum, rigors, and pleuritic chest pain are uncommon and suggest alternative diganosis
most important prognostic factor is the degree of hypoxemia at the time of diagnosis
Physical exam of the thorax is often unremarkable, though a few fine crackles or wheezes may be detectable
PCP chest x-ray findings
:
Diffuse bilateral interstitial infiltrates
Ten to 30% have normal chest x-rays; occasionally nodular densities or lobar infiltrates occur
May also produce a necrotizing sub-pleural vasculitis, leading to localized air cyst formation and pneumothorax
PCP diagnosis
:
Based on demonstration of the orgasm in respiratory tract secretions or lung tissue
The organism can not be cultured
95% of patients have elevated serum LDH levels
Treatment
:
First line therapy – TMP/SMX (Trimethoprim-sulfamethoxazole); common side effect in HIV = drug rashes
2nd line therapies – IV pentamidine, trimethoprim-dapsone, trimetrexate, primaquine-clindamycin, or atovaquone
Corticosteroid therapy, if PaO2 <70 mmHg or AaDO2 > 35mm Hg
Þ ß mortality in patients with significant hypoxemia
Prevention
: Anyone with CD4 count < 200 should be on prophylactic therapy Þ daily oral dose of TMP-SMX

Fungal Pneumonia

the frequency of the endemic mycoses depends on exposure to the organism and the incidence of infection in the population
cryptococcus neoformans
is the most common deep fungal infection. It is found worldwide
disseminated histoplasmosis
is common in the midwestern US (Ohio and Miss. River Valley areas)
coccidioides immunitis
is seen in the dry desert regions of the southwestern US (dry desert regions)
Cryptococcus neoformans
is a dimorphic yeast that is found worldwide in soil, bird droppings and decaying fruits
lung is the portal of entry for the organism, which most often manifests as disseminated disease with meningitis
the pulmonary phase of infection is usually asymptomatic
Chest x-ray findings include localized pulmonary infiltrates with cavitation or a diffuse interstitial infiltrate
Diagnosis is established by examination of the CSF by India Ink preparations, culture, assay of the CSF and serum for cryptococcal antigen
Initial treatment with amphotericin B, followed by lifelong chronic suppressive therapy with intermittent amphotericin B, fluconazole or itraconazole is required otherwise the probability of relapse is extremely high
Median survival is poor, averaging 4-6 mo.
Histoplasmosis and Coccidioidomycosis
Histoplasma capsulatum and Coccidioides immitis may also cause pulm. or disseminated disease in patients with HIV
In immunocompetent individuals illness is usually self-limited or asymptomatic
With a weakened cell-mediated immunity, progressive disease occurs
Diagnosis of Histoplasmosis requires bone marrow biopsy or culture, blood culture, or lung biopsy; Initial treatment is systemic amphotericin B, followed by chronic suppressive therapy with itraconazole
Diagnosis of Coccidioidomycosis is made by the presence of spherules in bronchial washings or transbronchial biopsies; Lifelong treatment with amphotericin B is required
Candida and Aspergillosis
candidiasis is extremely common in patients with AIDS, usually as a locally invasive mucosal disease
pulmonary candidiasis is extremely rare
recently, pulmonary candidiasis and aspergillosis is being reported more freq in advanced AIDS patients, usually as a terminal manifestation of disseminated infection
Invasive pulmonary aspergillosis presents with focal pulmonary infiltrates that may cavitate
granulocytopenia and corticosteroid therapy are risk factors for invasive aspergillosis

Tuberculosis

incidence of TB has been increasing in the US since 1986
Þ many cases occur in patients co-infected with HIV; estimated that 6,000 to 9,000 new cases of TB in HIV occur annually in the US; most cases are due to reactivation of infection in the setting of waning cell-mediated immunity due to progressive HIV disease
M. tuberculosis is a highly virulent human pathogen that presents early in the course of HIV infection
Without HIV there is a 5-10% lifetime risk of reactivation of TB
Pts with HIV and TB infection may have as high as an 8% per year risk of developing active tuberculosis
active TB appears to accelerate the course of HIV
Clinical presentation
:
Fever, weight loss, night sweats and productive cough
In early HIV, chest x-rays show apical fibrocavitary disease typical of reactivation TB
Presence of cavitation, intrathoracic lymphadenopathy, or pleural effusion is suggestive of pulmonary TB
In later stages of HIV, may present with "atypical" x-ray features – lower lobe infiltrates and hilar lymphadenopathy
Diagnosis
Demonstrating acid fast bacilli (AFB) in smears of deep respiratory secretions, and isolating M. tuberculosis in culture
It is not possible to distinguish M. tuberculosis from other mycobacteria on the basis of smear alone
Geneprobe: can distinguish M. tuberculosis from other mycobacteria
Treatment
:
Is similar to patients who are HIV negative but higher rates of relapse in HIV positive. Thus longer courses of therapy are suggested in patients with slow response to initial therapy
Advisable to use 3-4 drugs (e.g., isoniazid, rifampicin, ethambutol, pyrazinamide) during initial treatment until culture and drug sensitivity data become available
Prevention
: all HIV-infected individuals should have a PPD placed at the time of initial HIV diagnosis
Prophylaxis therapy for:
individuals with > 5 mm of cutaneous induration following PPD Þ isoniazid for 12 mo

Pulmonary Neoplasms: Kaposi's Sarcoma

KS pulmonary disease usually occurs in the setting of extensive mucosal and cutaneous disease
KS involves the lungs in 25-75% of patients with AIDS, pulmonary infiltrates and cutaneous KS
Nodular infiltrates with bloody or serosanguinous pleural effusions are the most common radiographic manifestations
Almost all patients with pulmonary KS have extensive KS lesions on the skin or oral mucous membranes
Typical pulmonary KS lesions are peribronchial or perivascular hemorrhagic nodules that may coalesce to form large masses; the nodules contain spindle-shaped cells (with vascular clefts filled with RBCs and hemosiderin) which may infiltrate along the alveolar and intralobular septae, producing a reticulonodular pattern with pleural involvement
On bronchoscopy, typical raised red-purple lesions similar to cutaneous KS plaques are diagnostic for the KS lesions
Up to 50% of patients with pulmonary KS have other potentially treatable opportunistic infections such as PCP or tuberculosis at the time of presentation with pulmonary symptoms
Clinical manifestations of pulmonary KS include fever, cough, and dyspnea
Some patients present with streaky hemoptysis
Definitive diagnosis generally requires open lung biopsy
Prognosis for pulmonary KS is poor

Pulmonary neoplasms: lymphoma

Non-Hodgkin's lymphomas may present with mediastinal or hilar lymphadenopathy and interstitial or nodular infiltrates
these tumors are high-grade B cell lymphomas
cytology of pleural fluid is diagnostic in 75-100% of effusions due to lymphoma
transbronchial lung biopsies usually do not provide adequate tissue for the diagnosis of pulmonary lymphoma and open lung biopsy is required for definitive diagnosis
EBV infection probably plays an important role in AIDS-associated NHL; almost all patients have (+)EBV serology
the prognosis of AIDS-assoc lymphomas is poor; treatment of AIDS-associated lymphomas is difficult
body cavity lymphoma, which presents primarily with pleural effusions, has been reported in AIDS
it appears to be associated with human herpes virus 8, the same virus that is the causative agent of KS
many reports suggest that lung cancer may occur in AIDS at a younger age

Pleural effusions in HIV

pleural effusions are common in HIV
in one series 27% of hospitalized AIDS patients had pleural effusions
most were sterile parapneumonic effusion due to bacterial pneumonia (31%)
tuberculosis caused 10% of the effusions and was the most common cause of large or massive effusion
PCP is rarely assoc with pleural effusion
Transudative effusions due to hypoproteinemia and malnutrition are common in advanced AIDS with severe wasting
AIDS-associated malignancies are other common causes of massive pleural effusions in AIDS patients