Respiratory System Mechanics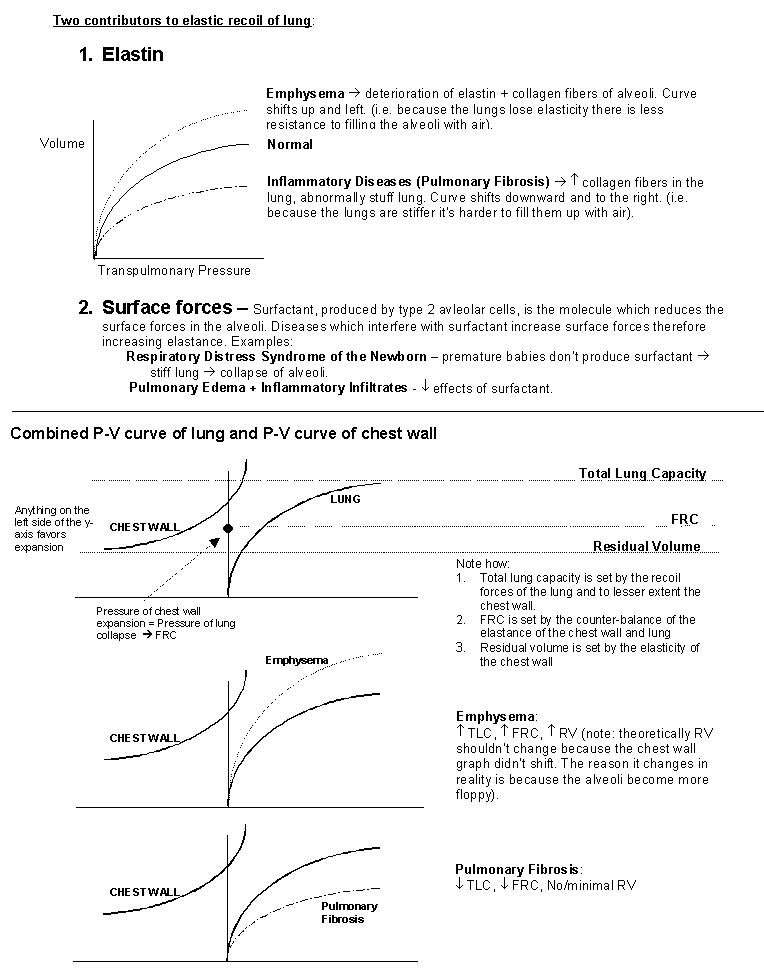 Airway resistance
Rairway = Palv – Pm / Flow
Pm = pressure at the mouth
Palv = pressure at the alveoli
The airways are a system of dicotomous branching tubes. The combined caliber of the daughter tubes becomes increasingly larger as the airway continues to branch.
~ 40% of airway resistance is in the extra-thoracic airways
~ 40% of airway resistance is in the large inter-thoracic airways
~ 20% of airway resistance is in the small inter-thoracic airways (< 2 mm, 8th generation out of 22-23 airway generations)
* airways are elastic structures therefore are capable of being compressed or expanded. The stronger the structure the smaller the ability to change. (larger airways have more cartilage therefore less ability to change structure)
Chronic bronchitis
– hyperplasia of mucous glands in the large airways ß caliber. Inflammation thickens the airways.

Lung Volume

– Determined by Transpulmonary Pressure
Transpulmonary pressure: PL = Palv – PPl

Extraluminal airway pressure ~ PPl.
The caliber of the airways is a function of the pressure gradient between in and out. A large transpulmonary pressure will tether the airway open.
PPl
The elasticity of the lung has a tethering effect on the airways
Palv
In Emphysema the "springs" are less stiff so the airways tend to narrow even though there is no intrinsic defect in the airways themselves.

Transpulmonary pressure is an important factor in tethering the airways open
Things that decrease large airway caliber (epiglottitis, tumors, bronchitis) Increase airway resistance
Maximum Expiratory Flow Volume Curve

– fill lungs and blow out as hard as you can.
Pulmonary Fibrosis
Vmax is less because the TLC is less
Vmax50 is also less.
Even without airway disease flow rates are decreased because of the relationship between the airways and the elastance of the lungs.
Emphysema
– often associated with airway disease
Vmax is reduced (because of narrowing of the airways)
Vmax50 is also reduced
Obstructions
Abnormality of the distal airways, higher flow preserved, reduced flow at smaller lung volumes
Proximal obstruction, higher flow affected. The more proximal the obstruction the higher the flow affected.

Volume changes as a Function of Time

Flow is equal to the tangent of the curve F=Vol/Time
FEV1
= the change in volume during the 1st second of forced expiration. (~ Vmax)
FEV25-75
= the change in volume over the time it takes to get from 25% to 75% of FVC (~ Vmax 50)
Obstruction

Pulmonary fibrosis

FVC

ß

ß

FEV1

ß

ß ß

ß

FEV1/FVC

ß

ß ß

Normal ratio