Neoplasms of Bone and Cartilage

Benign tumors outnumber malignant by several hundred fold. Benign are mostly in young; malignant mostly in elderly.
Specific types of sarcomas, none the less, target certain age groups and anatomic sites.

Osteochondroma

– exostosis
a benign cartilage capped outgrowth that is attached to the underlying skeleton by a bony stalk and connected to the medullary canal
Develops only in bone of endochondral origin via displacement of the lateral portion of the growth plate, which proliferates diagonally to the long axis of the bone

Solitary osteochondromas are diagnosed in 2nd and 3rd decade
Multiple osteochondromas become apparent during childhood
Multiple Osteochondroma (Multiple Hereditary Osteocartilaginous Exostosis)
: Autosomal dominant hereditary disease that is genetically heterogeneous- associated with short stature and other bone deformities.
In adult, cartilage may undergo malignant transformation.
Incidence:
Peak age: 2nd and 3rd decade; Male/female = 1.7:1; Favored location: distal femur; proximal humerus and tibia
Symptoms:
Mass lesion of long duration; pain possible from impingement on an overlying structure, bursa formation or fracture through stalk. Signs: palpable mass is noted.
Radiographic Features:
Peripheral bone projection or growth in metaphyseal region of long bone.
continuity of cortical and cancellous bone from the underlying parent bone to the lesion
Descriptive Terms:
Sessile: broad based; Pedunculated: mushroom-like
Microscopic Features:
Thin fibrous capsule and thin cartilaginous cap
Mimics appearance of an epiphyseal plate with maturation via enchondral ossification-matures with physis
Chondrocytes lack pleomorphism, nuclear hyperchromasia and binucleation.
Intervertebral space is filled with fatty or hematopoietic marrow.
Chondromas

– benign tumors of hyaline cartilage
arise mostly in bone formed by enchondral ossification
Enchondromas
: arise in the medullary cavity; Subperiosteal or juxtacortical: arise on surface of bone.
Most common of the intraosseous cartilage tumors
Solitary chondromas rarely undergo sarcomatous transformation
Incidence:
Peak age: 2nd decade, but found in all age groups; Male/Female = 1:1; Favored location: short tubular bones of the hand and feet but found in the femur and humerus as well.
Symptoms:
Mostly asymptomatic; pain is rarely presenting complaint but could result from pathological fractures; in absence of fracture, pain should raise suspicion of low-grade chondrosarcoma.
Radiographic Features:
frequently an incidental finding in medulla

unmineralized nodules of cartilage produce well circumscribed oval lucencies, surround by a thin rim of radio dense bone (O ring sign)
If matrix calcifies, it is detected as punctate opacities

Microscopic Features:
Hypocellular tumor (usually < 3cm), blue-gray cartilaginous matrix, translucent and nodular.

cartilage nodules are well circumscribed and chondrocytes are cytologically benign: uniform, small dark nuclei
binucleation is rare.
Peripheral nodular cartilage frequently undergoes enchondral ossification and center dies.
Expansile growth distinct from osteochondroma

Ollier's Disease
(Multiple Chondroma; Multiple Enchondromatosis): rare developmental abnormality-; non-familial

Maffucci syndrome
is form associated with soft tissue hemangiomas
Incidence:
Peak age: congenital, diagnosed by 10 yo; Male/Female 1:1; Favored location: Any bone

Malignant transformation in 1/3 of cases

Symptoms:
Same as solitary lesion.
Microscopic Features:
More cellular, more cytologic atypia and more myxoid (mucus-like) than solitary lesion

Ollier's and Maffucci may be hard to distinguish from chondrosarcoma.
Chondrosarcoma

– group of tumors who all have the common feature of producing neoplastic cartilage
In contrast to enchondroma - rarely involves distal extremities.
Subclassified by site: Intramedullary and Juxtacortical as well as histological variants: Conventional (hyaline and/or myxoid), clear cell, dedifferentiated, and mesenchymal
Incidence:
Peak age: adulthood (4th – 6th decade); M/F = 1.5:1; Favored local: Central skeleton and proximal extremities.
Symptoms:
pain that wakes you at night or mass lesion.
Morphology
Conventional – gray-white large bulky nodules, translucent and glistening
Myxoid – viscous and gelatinous; spotty calcification; central necrosis causing cystic spaces; tumor grows with broad pushing fronts into soft tissue and invades marrow space
Radiographic Features:
Predilection for central skeleton and metaphysis and diaphysis of the affected bone.
Partial calcification
Cortical erosion or destruction is possible
Soft tissue extension is commonly seen in large lesions
The more radiolucent the tumor, the more likely it is high grade.
Microscopic Features:
Destructive invasion seen at cortex
Divided into 3 Grades based on extent of Cellularity, pleomorphism and mitosis
Low Grade 1: mild hyper cellularity, chondrocytes have plump, vesicular nuclei with small nucleoli. Binucleated cells and mitotic figures are hard to find. Partial mineralization and endochondral ossification may occur.
High Grade 3: marked hypercellularity, extreme pleomorphism with bizarre tumor giant cells and mitosis.
Often you see cancellous bone encompassed by chondrocytes.
| | |
| --- | --- |
| ENCHONDROMA | CHONDROSARCOMA |
| Ceases to grow in adulthood | Growing lesion |
| Asymptomatic | Painful |
| Well defined border | Poorly defined margin |
| Regular ring like mineralization | Irregular mineralization, poorly defined area |
| No cortical destruction, thickening | Cortical thickening or erosion |
Chondrosarcoma can arise from < 1% of Osteochondromas
. (Risk is higher in the hereditary syndrome)

Peak age:
in between the two: 3rd and 4th decade. M/F: 2:1 Favored local: = ilium, humerus, femur
Symptoms
: a mass lesion that recently has increased in size; pain likely.
Radiographic
: thick indistinct cartilage cap with radiolucent regions; destruction of underlying osteochondroma
Microscopic
: same as chondrosarcoma.
Ewings Sarcoma

– a primary malignant small cell tumor of bone
6-10% of primary bone tumors (600/yr)
Use to be fatal in 1st year, now 60% survival at 5yrs (at least 50% long-term cure).
Resembles: lymphoma, rhabdomyosarcoma, neuroblastoma and oat cell carcinoma.
Ewing sarcoma tumor cells exhibit neural phenotype as do primitive neuroectodermal tumors (PNET)

both express c-myc oncogene (MIC2)
85% have t(11,22) (q24,q12) translocation. (syllabus has this screwed up; Karim said we need to know this)

identification of this translocation is diagnostic of this disease

Tumors that demonstrate neural differentiation by light or electron microscopy, immunohistochemisrty = PNET
Tumors that are undifferentiated by these analysis are diagnosed as Ewings sarcoma.

Incidence:
Peak age: 5-20yo; M/F: 1:1(mostly caucasian); Favored local: Tibia, humerus, ribs, spine (red marrow forming)
Symptoms:
pain and swelling, increased sedimentation rate (other infectious symptoms): can misdiagnose as osteomyelitis

Signs: palpable soft tissue mass (extension from intraosseous lesion)

Radiographic:
permiative (poorly marginated) lytic lesion of diaphysis: commonly with vascular soft tissue mass.

Prominent periosteal new bone formation:

onion skin
– layering of new bone from repeated dissection of periostium by lesion
sunburst pattern
– or hair on end, related to growth of the tumor.

Microscopic:
"small blue round cell tumor" – cells are round to oval, uniform

scant cytoplasm that may appear clear because it is rich in glycogen (stains with periodic acid-Schiff/diastase)
Nuclei have delicate, finely dispersed chromatin

Treatment:
Surgical with pre- and postop chemo/radiation therapy.

30% are metastatic to the lung at diagnosis.
Osteosarcoma

– malignant mesenchymal (stromal) tumor in which the cancerous cells produce bone matrix
Most common primary malignancy of bone
Classification of Osteosarcoma by:
anatomic potion of bone from which it arises:

Medullary
mostly grade 3: (poorer out come than surface lesion)
Juxtacortical,
:Parosteal and Periosteal osteosarcoma, high grade surface osteosarcoma
Intracortical

Histological variants: osteoblastic, chondroblastic, fibroblastic, telangiectatic, small cell and giant cell
by Clinical variants associated with preexisting disorders: benign tumors, Paget disease, bone infarcts, radiation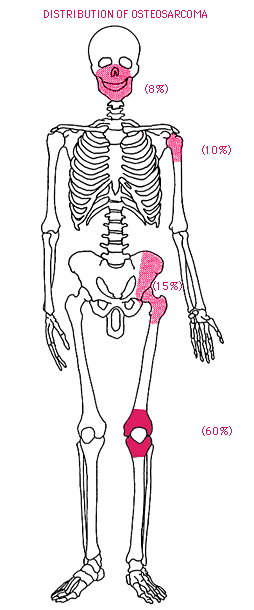 Incidence:
Peak age: 2nd decade; M/F: 1.4:1; Favored local: Distal femur, proximal tibia
Symptoms:
pain, swelling, pathological fracture
Radiographic:
Epicenter of tumor in metaphysis
Lytic, blastic or mixed bone destruction and production
Trabecular and cortical destruction is usually geographic and poorly marginated
Soft tissue mass extends from intraosseous
Codman triangle
(arrow) is feature generated by tumor breaking through cortex, lifting periosteum and stimulating reactive periosteal bone formation
Microscopic:
Sarcomatous stroma that produces osteoid- frequently in lace like pattern.
Malignant stromal cells with pleomorphism, bizarre configurations, numerous mitotic figures
May incorporate features of chondrosarcoma or fibrosarcoma (even predominantly)
i.e. chondroblastic osteosarcoma (if it makes malignant bone it is osteosarcoma)
vascular invasion conspicuous, up to 60% of tumor can be spontaneous necrosis
"Skip" lesions may be present (lesion separated by normal marrow or joint)
Prognosis is poor upon this finding. 25% incidence
Natural progression of disease without treatment
Clinical Course:
Bimodal age distribution: 75% under 20 yo = primary carcinoma; elderly with secondary carcinoma
1970's : 20% survival at 5 yrs. Today long term survival = 60%
of those who die of neoplasm, 90% have metastases to lung, bones, brain or elsewhere.
Management:
must obtain local control
x-ray reveals tumor
biopsy, core needle aspiration, etc.
implement chemotherapy
resection: look for necrosis histologically; chemo is working if at least 95% of tumor is necrosed
if less than 95% of tumor is necrosed then more aggressive therapy is required.
Treatment:
Limb salvage vs Amputation
Responsiveness to chemo therapy is correlated to tumor cell expression of multi drug resistant genes
5 yr. survival of responders (no resistance gene) is 40-80%
Limb salvage regiment (Surgery + pre/post-op chemo/radiation/immuno-therapy) is successful for responders.
Metastatic Bone Disease

: Most common form of skeletal malignancy (osteosarcoma is most common primary cancer)
Mechanism of spread
: Chemotactic factors attract metastases; cytokines from osteoclasts and immune response contribute. This may explain how some metastases can be quiescent for decades then erupt.

The capillary network in the red marrow of metastatic sites is generally well fenestrated and has greatly increased cross sectional area.
therefore blood flow slows, metastatic cells easily leak into marrow environment which is nutrient and chemotactic favorable to the implantation and growth of tumor cells.

Pathways of spread
:

direct extension
lymphatic or vascular dissemination
intra spinal seeding (Batson plexus of veins)

Most common metastases from primary malignancies in
:

Adults
: prostate, breast, kidney, lung
Children
: neuroblastoma, Wilm's Tumor, Osteosarcoma, Ewing sarcoma, rhabdomyosarcoma

Any cancer can spread to bone and are typically multi focal
.

carcinomas of the kidney and thyroid mostly produce solitary lesions.

Favored locale:
vertebral bodies, pelvic bones, ribs, proximal femur and humerus. Rarely distal to elbow or knee.
Symptoms:
(Insidious) steadily increasing pain, worse at night; sudden increase in size of lesion; pathologic fracture
Microscopic:
Finding of epithelial elements in cancellous bone.

glandular tissue = adenocarcenoma: most common metastases
follicle with colloid = thyroid metastases
clear cell carcinoma = kidney metastases; the secondary lesion is often found before the primary cancer
usually histology can not determine primary cancer; generally can confirm suspicion based on history

Differential diagnosis should also include: primary bone tumor, Paget's disease, fracture, osteomyelitis, and hematopoietic malignancies.