Cerebral Angiographic Anatomy
Cerebral Angiography
Angiography: Imaging cerebral blood flow (CBF) by floating a catheter into the femoral artery up the abdominal aorta across the aortic arch and into the brachiocephalic trunk. Contrast is injected through catheter via a pressure injector and radiographic image taken to delineate the cerebral circulation.
functional assessment of CBF is more accurately assessed by physiologic imaging (SPEECT, PET, Diffusion/Perfusion study, MRI)
angiographic technique is invasive and therefore carries some defined uncontrollable risk

Risks: stroke – 0.3%, allergic reaction to contrast – 0.01%
Angiographic Anatomy
Arteries:
Aortic arch:
branches – braciocephalic truck (innominate artery), left subclavian, left common carotid (central bifuracation at level of C4 variations)
Common Carotid branches
: external carotid, internal carotid (cervical segment, petrous, portion, cavernous portion, supraclinoid portion – opthalmic artery branches between cavernous and supraclinoid, 80% intradural, 20% extradural)
Circle of Willis
– Important collateral pathway, only 20% possess Netter anatomy. Common site for congenital aneurysms.
Anterior cerebral artery
: normal course, supplies the frontal lobes, follows and demarcates the midline, supplies – the interhemispheric portion of the homunculus (i.e. lower limbs)
Middle cerebral artery
: follows up the insula, segments: M1, M2, anterior and posterior division, the opercular portion
Supplies – the majority of temporal and parietal lobes (lobes responsible for speech, cognitive function and Upper Extremity motor function)
Anterior Choroidal artery
– branches off of MCA, portion runs next to pComA and eventually supplies choroid plexus of lateral ventricle. Supplies visual pathways, thalamus, medial temporal lobe, choroid plexus (larger artery in lower animals i.e. animals with diminutive telencephalons)
cisternal portion serves as a proxy for the uncus/hippocampus on angiograms
Venous drainage of cerbral hemispheres
: basal vein of Rosenthal and internal cerebral veins join to form the vein of Galen : the final common pathway for venous drainage of the deep circulation: basal ganglia, corpus callosum, internal capsule, etc.
Deep veins and cortical veins drain in to the dural sinuses
: superior sagittal sinus, lateral sinuses, jugular veins
Volume of blood flowing through the jugular veins is equal to the carotid flow (but velocity is much slower)
Arterial supply to the posterior fossa:
2 vertebral arteries arise from the subclavians and connects to basilar
Basilar
– most important vessel in the posterior fossa and supplies the medulla, pons, midbrain. Also supplies blood to the posterior cerebral arteries which serve the occipital (visual) cortex and thalamus (via thalamoperforaiting branches)
Posterior Inferior Cerebellar Artery
supplies everything below horizontal fissure of Cerebellum, branches off the vertebral
Anterior Inferior Cerebellar Artery and Superior Cerebellar Artery
– branches of basilar. Supplies everything above horizontal fissure (i.e. medulla, pons, midbrain)
Venous drainage of the posterior fossa:
the cerebellum is drained by the superior and inferior vermian veins as well as unnamed cortical veins, these drain into the dural sinuses (straight, transverse sinuses, etc.)

Interventional and Endovascular Techniques

unclog the plug with tissue plasminogen activator (tPA)
Techniques:
AVM – coils, aneurysm-guglielmi detachable coil (GDC), embolic stroke-intraarterial thrombolysis, carotid disection-angioplasty, carotid cavernous fistula-balloons, pseudoaneurysm – stent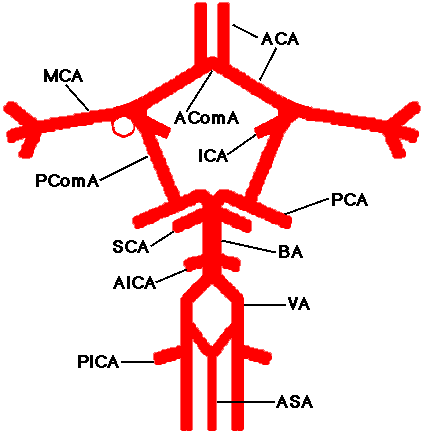 Key for diagram: ACA – anterior cerebral artery, MCA – middle cerebral artery, AcomA – anterior communicating artery, ICA – internal carotid artery, PcomA – posterior communicating artery, PCA – Posterior Carotid Artery, SCA – Superior Carotid Artery, BA – Basilar artery, AICA – Anterior Inferior Carotid Artery, VA – Vertebral artery, PICA – Posterior Inferior Carotid Artery, ASA – Anterior Spinal Artery
Arterial Supply and Effect of Occlusion
Branches of Internal Carotid
Ophthalmic Artery
Supplies
: Eye including neural elements (retina, optic nerve)
Posterior communicating Artery
Supplies
: Part of circle of Willis
Anterior Choroidal Artery
Supplies
: Choroid plexus of lateral ventrical, may optic tract, lateral geniculate body, internal capsule, crus cerebri
Anterior cerebral artery (usually well tolerated due to collateral flow)
Supplies
: Medial surface and some of the superior lateral surface of frontal and parietal lobes (medial is "leg area" of S1 and M1), anterior 4/5 of corpus callosum, anterior basal ganglia and internal capsule
Lesion may cause
: Paralysis and sensory loss of contr. foot and leg, impairment of gait and stance, urinary incontinence (esp. if bilateral), ideomotor apraxia of language centered side (usually left) limbs with involvement of corpus callosum
Middle cerebral artery
Supplies
: Bulk of lateral surface of hemispheres (motor and sensory cortices, Wernicke's area, Broca's area, frontal eye fields, auditory area, small amount of visual caortex), part of internal capsule, visual radiation,
Lesion may cause
: Conralateral paralysis sensory (pain, touch, vibration, proprioception) loss of face, arm, leg, trunk, aphasia (different types depending on hemisphere), left sided neglect (if on right), homonymous hemianopia or quadrantopia
Branches of Basilar
Posterior cerebral artery
Supplies
: Occipetal pole, inferior temporal lobe, occipetal lobe, posterior 2/3 of temporal lobe, thalamus, sub-thalamic nucleus
Lesion may cause
: Contralateral homonymous hemianopia (macular vision often spared) Awareness or denial of blindness.
Other basilar branches
Supplies
: Pons (including some CN nuclei), cerebellum, thalamus, midbrain
Lesion may cause
: Resting or active tremor, diplopia/gaze palsies, UMN lesions (cortico-bulbar/cortico-spinal involvement), cortical blindness (sparing pupillary reactions), coma, cerebellar symptoms
Vertebral Arteries
Supplies
: Meninges, anterior spinal cord, posterior spinal cord, posterior cerebellum, medulla
Lesion may cause
: Lateral medullary syndrome, cerebellar dysfunction