Substance Abuse and CNS Stimulants

Overview

Definition
: Drug abuse - excessive misuse of a drug. Also misuse that is not accepted by society.
Drug Abuse in USA
:
#1-EtOH
#2-cannabis
#3-stimulants (cocaine, speed, amphetamines)
#4-opiates (heroin, morphine)
#5-depressants (barbiturates, etc.)
#6-hallucinogens
Neuropharmacology of Drug Abuse

Positive Reinforcers
- Stimulus (e.g. euphoria) that Ý frequency that a behavior (e.g. drug administration) leads to further stimulus presentation.
Rewarding properties of drugs are observed as
: facilitation of intracranial self stimulation, self administration of drug, induction of conditioned place preference
Negative Reinforcers
- Stimulus (e.g. withdrawal) that Ý the frequency of a behavior that terminates stimulus presentation. (Ý in behavior which would terminate withdrawal syndromes).
Drug seeking behavior is determined by
:
(1) Positive reinforcing properties of drug
(2) adversive properties of drug
(3) discriminative effects of drugs
(4) stimuli conditioned to effects of drugs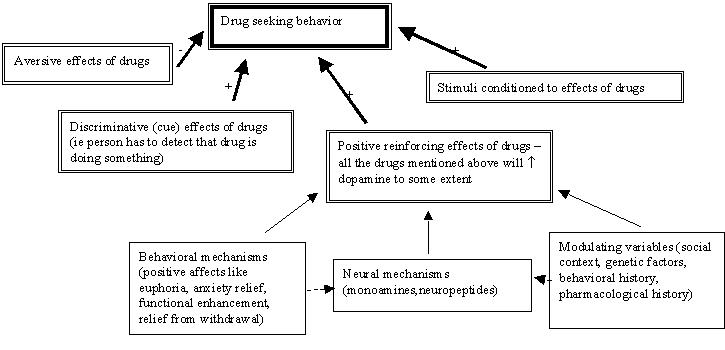 Many drugs of abuse (e.g. cocaine, amphetamine, alcohol, opiates, etc.) have in common the ability to
Ý the synaptic concentration of dopamine in limbic brain areas.
Relapse
- Environmental cues that enhance limbic dopamine release have the potential to reinstitute addiction (ex: amphetamine administration can reinstate heroin addiction)
Time-dependent effects of drug exposure leading to addiction:
Acute drug state

reinforcement, reward

Ý

mesolimbic DA, maybe 5HT

Minutes-hours

Chronic drug state

preoccupation bingeing, tolerance, dependence

receptor adaptations:

Ý cAMP path, Ý CREB,

Ý

other transcription factors, Ý glutatmate

Days-years

Short-term abstinence

withdrawal,

ß reward effect

Ý

NE, Ý GABA Þ ß DA and 5HT, ß opioid peptides, Ý CRF

Hours-days

Long-term abstinence

addiction,craving,stress-induced relapse

Ý

CRF, glucocorticoids

Days-years
CNS Stimulants
CNS stimulant drugs are divided up into two groups
:

(1) psychomotor stimulants
(cause excitement and euphoria,
ß feelings of fatigue, Ý motor activity)
Amphetamine (ice), Caffeine, Cocaine, Methylphenidate (Ritalin), Nicotine, Theobromine, Theophylline
(2) psychotomimetic drugs
or hallucinogens (change in thought patterns and mood, with little effect on the brainstem and spinal cord)
Lysergic acid diethylamide (LSD), Phencyclidine (PCP), Tetrahydrocannabinol (THC)
(1) Pharmacology of Amphetamine and Methylphenidate (Ritalin)
: Amphetamines are indirect sympathomimetics (catecholamine releasing agents). They facilitate transporter mediated catecholamine release, and block monoamine oxidase (MAO).
Actions
:
CNS
- Behavioral effects due to release of dopamine rather than norepinephrine in CNS. Stimulates entire cerebrospinal axis, cortex, brain stem, and medulla
Þ Ý alertness, ß fatigue, ß appetite, Ý medullary respiratory center, elevates mood (but are NOT antidepressants), insomnia.
Sympathetic nervous system
- Indirect stimulation of adrenergic system via norepinephrine release.
Clinical
: Narcolepsy (methylphenidate), hyperkinetic syndromes (i.e., attention deficit disorder), short term weight control
Pharmacokinetics
: Absorbed in GI, metabolized in liver, excreted in urine. Euphoria lasts 4-6 hours (4-8x longer than cocaine). Produce addiction - dependence, tolerance and drug-seeking behavior.
Adverse effects
: Ý norepinephrine release Þ activation of a and b receptors Þ hypertensive crisis, tachycardia, Ý BP
CNS: confusion, anxiety, insomnia, psychotic episodes (related to dopamine release)
Withdrawal
: Withdrawal symptoms are opposite of what drug does - applies to other drugs as well
(2) Pharmacology of Cocaine [koe KANE]
: Blockade of norepinephrine, serotonin, and dopamine reuptake into the presynaptic terminals. Block potentates and prolongs the CNS and peripheral actions of these catecholamines. The prolongation of dopaminergic effects in the limbic system produces the intense euphoria that cocaine initially causes. Chronic intake of cocaine depletes dopamine Þ craving and depression Þ need more cocaine.
Actions
:
(1) CNS - stimulation of cortex and brainstem
Þ Ý mental awareness, feeling of well-being and euophoria (similar to amphetamine), hallucinations, delusions, paranoia (all similar to amphetamine), Ý motor activity. High dosesÞ tremors, convulsions, respiratory and vasomotor depression.
(2) Sympathetic nervous system - potentiates action of norepinephrine
Þ tachycardia, hypertension, pupillary dilation, peripheral vasoconstriction
Clinical
: Surface anesthesia by blocking voltage-gated Na+ channels. Also causes vasoconstriction (causes necrosis of nasal septum in chronic use)
Pharmacokinetics
: Self-administered by chewing, snorting, smoking and IV injection. High disappears in 1-1.5 hours.
Adverse effects
: Þ hypertension, tachycardia, sweating, paranoia
Depression - treated with benzodiazepines or phenothiazines
Arrhythmias - propranolol or diazepam may be required to control.

Tolerance, Sensitization and Toxicity

Tolerance
: requirement for larger dose of drug (need more and more cocaine in order to induce same euphoria)
Sensitization
: enhanced psychomotor responses following the repeated administration of stimulants; can produce paranoia and panic attacks.
Toxicity
: large doses of amphetamines can deplete neurotransmitters (e.g., dopamine and serotonin) in the brain.