Psychodynamics of Anxiety: The Neurotic Process

Structural Hypothesis

Id
- repository of the instinctual drives, most important of which are the aggressive and the sexual (libidinal) drives. Entirely unconscious and is therefore not bound by the laws of logic and reality. Presses for immediate discharge and gratification; would succeed if not for the ego.
Ego
- mediates between id and outside world, conforming instinctual demands to societal sanctions. Immature ego of a child will try to get away with what it can. Mature ego has incorporated reality demands, making it unnecessary to actually test limits. An important psychological device ego uses to regulate id are mechanisms of defense (repression, projection, identification, reaction formation, etc) - breaks down in substance abuse. Another device is testing of reality - breaks down in schizophrenia. Creativity is a controlled lapse of ego control, psychosis is an uncontrolled lapse.
Superego
- Consciousness. Controls ego by feelings of guilt and shame. Constant guilt leads to low self-esteem. Superego of the neurotic is very harsh.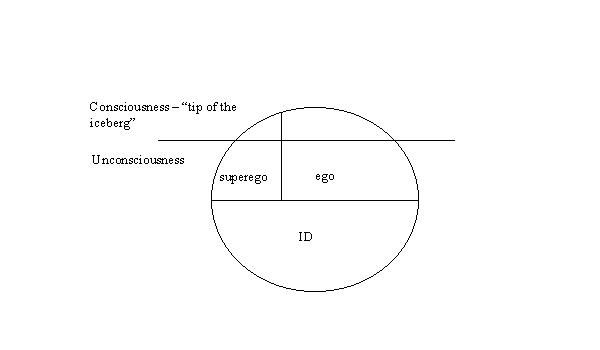 Theories About Anxiety

Developmental Hypothesis
Psychogenetics
(developmental influences, NOT genes) which shaped person earlier in life. (oralÞ analÞ phallicÞ oedpialÞ pre-adolescentÞ adolescentÞ etc.) Also death of parents, illness, divorce, abuse (sexual and physical) all influence normal human development. Neglect and abuse in the very early stages may disrupt the building blocks of personality.
Mechanisms of defense which the ego uses develop in childhood. When these fail due to problems in childhood (see "repression" below) have to develop new ones later in adolescence when feelings re-emerge. This may lead to new pathologic mechanisms of defense including isolation from environment.
Most people who are confronted with aggression and sexuality which is 'unacceptable' repress it. Repression means that we drive these desires (in forms of fantasy, dream) into subconscious. This requires the expansion of a lot of energy. When the unconscious instinctual drives break through, anxiety automatically follows
Therefore: Anxiety = conflict between id and ego.
Anxiety Theory
- issues that cause anxiety in childhood (below) are symbolically recapitulated in adult behavior
(1) 'loss of mother' - sensuality between child and mother happens in oral stage. If this doesn't happen (i.e., maternal deprivation) will lead to extreme anxiety. Later in life may resurface as an inability to form intimate relationships.
(2) 'loss of mother's love' - when 2-3 y/o gets a new sibling they fear they'll lose their mother's love. Defense response is regression. Child whines and behaves immaturely to draw mother back to him. Later in life may show regressive behavior in order to get attention.
(3) 'Castration Anxiety'-fear of bodily injury in 3-6 y/o child. Relived in adulthood as anxiety to do things that may harm us.
(4) 'Superego Anxiety' - Overly demanding superego causing feelings of guilt and anxiety in childhood. Relived in adulthood as uncontrolled guilt.
The Neurotic Personality
People with neurotic personalities often behave as though attempting to redress childhood grievances by reenacting childhood dramas in adult situations. This limits their behavioral options. Respond to contemporary situations with old feelings, even when there is only a trivial or symbolic similarity to the childhood conflict. The compulsion to repeat and master infantile conflicts is a basic psychological phenomenon in neurotics.
Example: Man with anxiety neurosis responds to normal marital conflict by attempting to placate his wife. Blames self for unpleasantness, this leads to anxiety. Repression of his anger was related to old risk of losing his mother's love if he angered her.
For the neurotic too much is unconscious. Individuals are out of touch/fear their impulses, desires, fantasies, thoughts, and feelings. Fear normal anger and regard it as having magical, destructive consequences. Sexuality is often dangerous and forbidden. Thoughts and feelings are equivalent to deeds. Fantasies, which for most people are normal, are forbidden and produce guilt.
Neurotic's self-esteem is very low. Assumes that other people think as poorly of him as he does of himself. Behavior of a neurotic is self-defeating
Þ defeat is often accepted more easily than success, and is regarded as expected, deserved, and just. Success produces guilt and is avoided.

The Neurotic Conflict

A neurosis is a psychogenetic disorder characterized by an unconscious conflict between id and ego. Ego's expenditure of energy in defensive maneuvers (mechanisms of defense) to keep the drives repressed results in varying degrees of ego constriction and maladaptive behavior.
A neurotic symptom is the result of an attempt to bind the anxiety caused when an id drive threatens to escape the ego's controls. Neurotic symptoms are only partially successful in binding the anxiety and are themselves distressing and emotionally painful. They are not a solution but a compromise.
Example: Soldier who gets paralysis of his right arm - an hysterical conversion symptom - when trying to fire his rifle under supervision of his drill instructor who he feels anger towards. He was struggling with powerful aggressive impulses which he feared he could not control. The paralysis represented a defense against a murderous impulse towards the D.I. which he could have carried out and feared he could not control. It was both a symbolic expression of a forbidden homicidal wish and a literal defense against it.